Linda Carr was born and raised in East Peoria, two and a half hour drive south of Chicago, Illinois. Linda Carr's love of art is reflected in her work. Her finely detailed, lifelike oil paintings more closely resemble something created from a camera than with brush strokes on canvas.

Linda was a volunteer art teacher assistant at the Sun Foundation and assisted accomplished sculptor Erik Blome, whose works that dot the nation include bronze portraits of professional basketball player Michael Jordon's father, James, and nine foot tall statue of Dr. Martin Luther King, Jr. and Ms. Rosa Parks.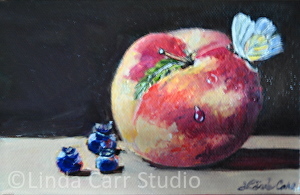 Her interest in art started at age six when she became enthralled with her grandmotherfs charcoal wildlife sketches. Her first viewing of an art gallery was from spending summers at her grandmother's country home, viewing charcoal sketches of a shoreline canoe dock with a moonlit stream and smoke coming out of an American Indian TeePee. Her early experimentation with pencil sketches and watercolors encouraged her interest in art. Her elementary and high school teachers in the Peoria area provided further encouragement that pushed her into attaining her graphic arts degree at Illinois Central College.

While at I.C.C., she received the Award of Excellence for Outstanding Technical Communication at Bradley University sponsored by Caterpillar. She also received, First Place in the National EmploytheHandicapped Poster Contest sponsored by the Department of Illinois Disabled American Veterans.

She used her graphic artist degree in her work for national trade magazines and local newspapers. She was skilled in printing, line illustrations, layout, logo, advertising, black & white photography, and is certified in adobe photoshop.

Linda shared her love for art with children in the Putnam County School District where she taught basic drawing technique to elementary students. She also donated one of her works, Sunday Afternoonh, to the Putnam County Education Foundation for them to raise funds for their Fine Arts Program.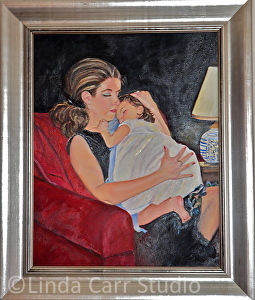 A member of the Portrait Society of America, her paintings has been exhibited at the Peoria Civic Center, Peoria Art Guild, Heart Illinois Art Fair, and Lake View Museum. Linda placed in the Top 10 at the Art and Automotive Classic Junction City, Peoria, IL and accepted into Greenhouse Gallery Saloon International in San Antonio, TX.

She study with pleinf air artist Tracey Frugoli at the Peoria Art Guild and furthered her portrait training with artist Sherrie McGraw and Daniel Greene in Washington, .D.C. at the Portrait Society of America International artist annual Conference. Linda will be attending The Art of the Portrait Conference Annual Conference May 2012 in Philadelphia, PA. Linda furthered her portrait training at the Cedar Rapids Museum of Art Portrait Academy with Rose Frantzen, who attended the Academy of Art In Chicago; Artist Jean--Paul Tibbles from London who created book covers for American Girl, and Little Women; with portrait artist Judith Carducci body parts: Ears, Eyes, and Hands.

Her artwork has been popular with collectors of her works from Peoria, Chicago, Colorado, Florida, New York, California, and as far away as Japan. Linda lives and works in Illinois.